When you're running a business, the chat messages of your Facebook business page can often contain important information. You probably want to save it somewhere, but how? Simply back it all up on your office computer!
By exporting Facebook Messenger chat history to your computer, the messages will still be available if you need them, even if you deactivate or otherwise lose access to your Facebook account.
If this is something useful to you and your business, keep on reading and find out how to download your Facebook chat history.
Download Facebook Messenger chat history of your business page – Step by step guide
1. Go to your Facebook business page and click on Settings. If your Settings option is blurred, you will first need to click on the Switch button.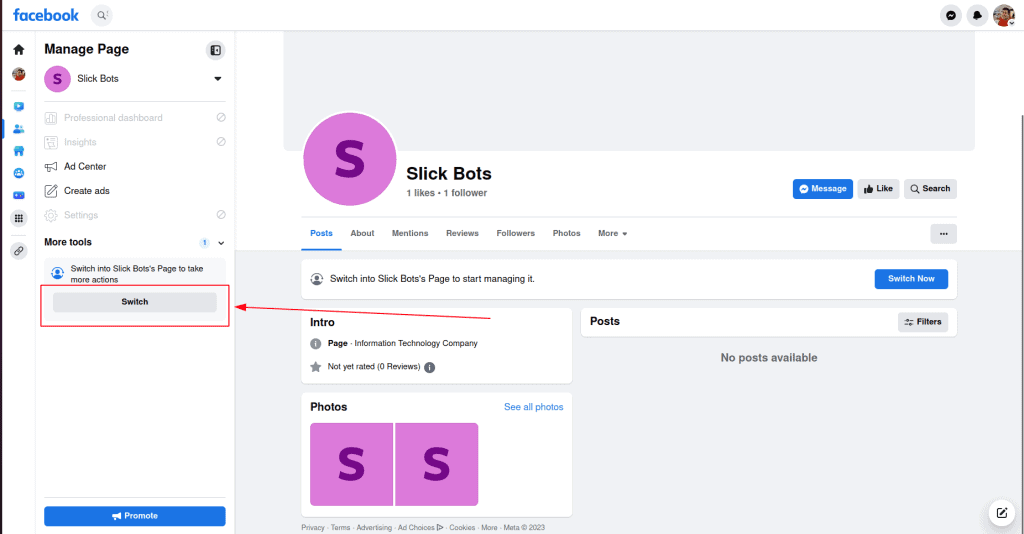 That will help you switch from your personal profile to your page profile.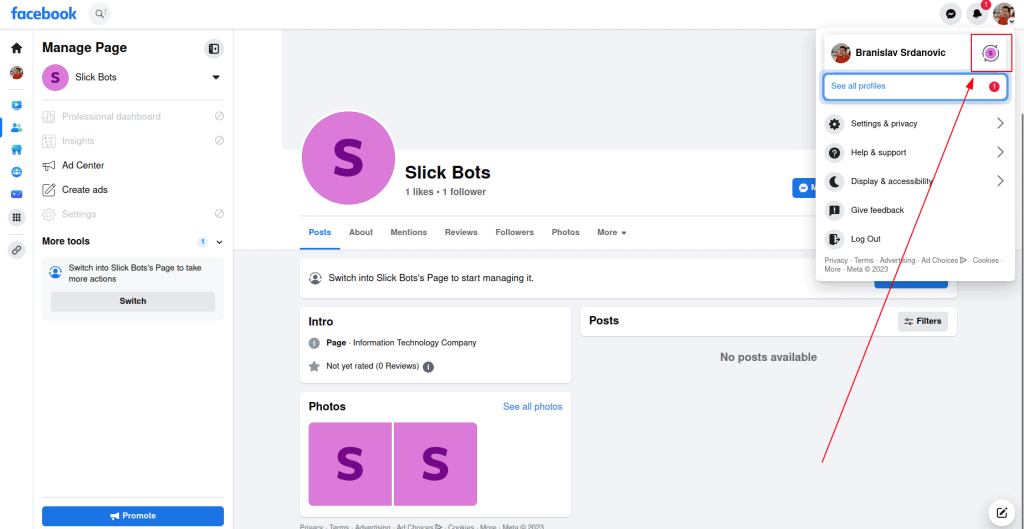 If/when the Settings option is available, click on that.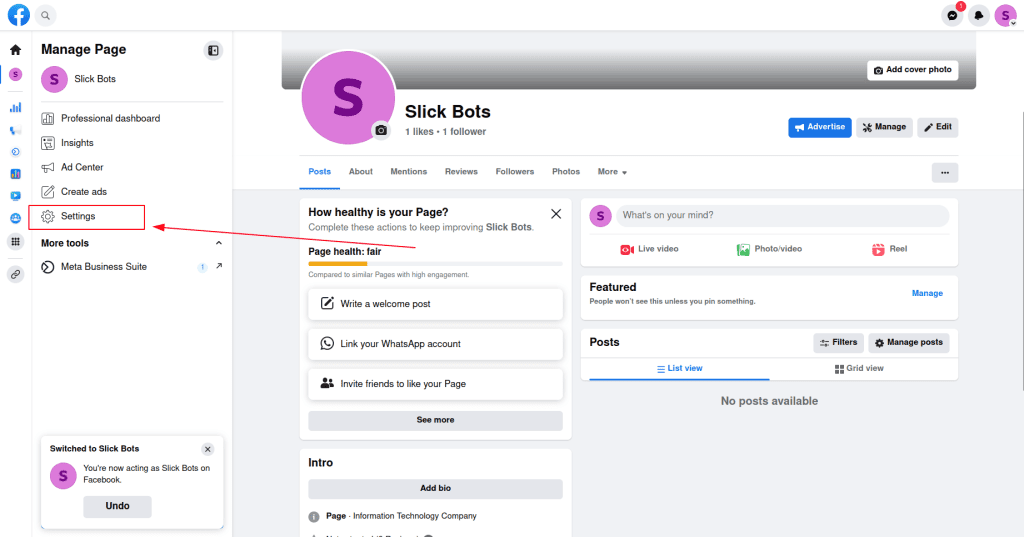 2. Next, you need to click on Privacy.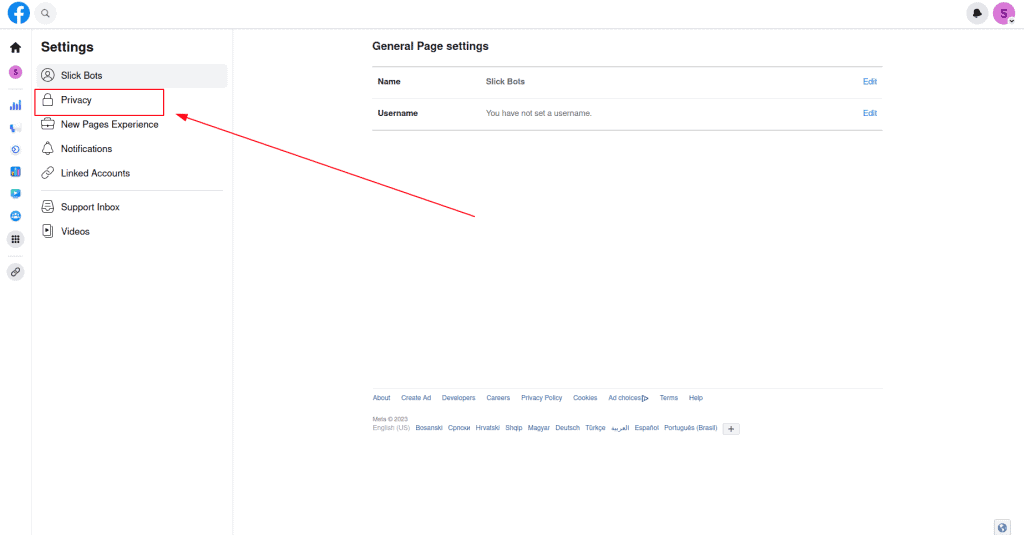 3. Then choose the Facebook Page Information option.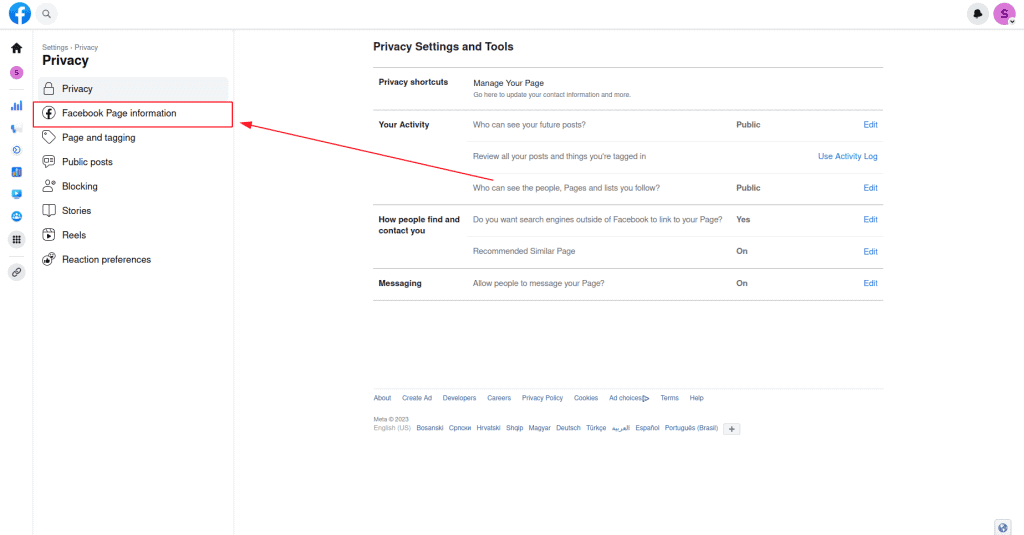 4. When this page opens, you should find the Download Profile Information section. Next to it, you will see a
View button that you should click on.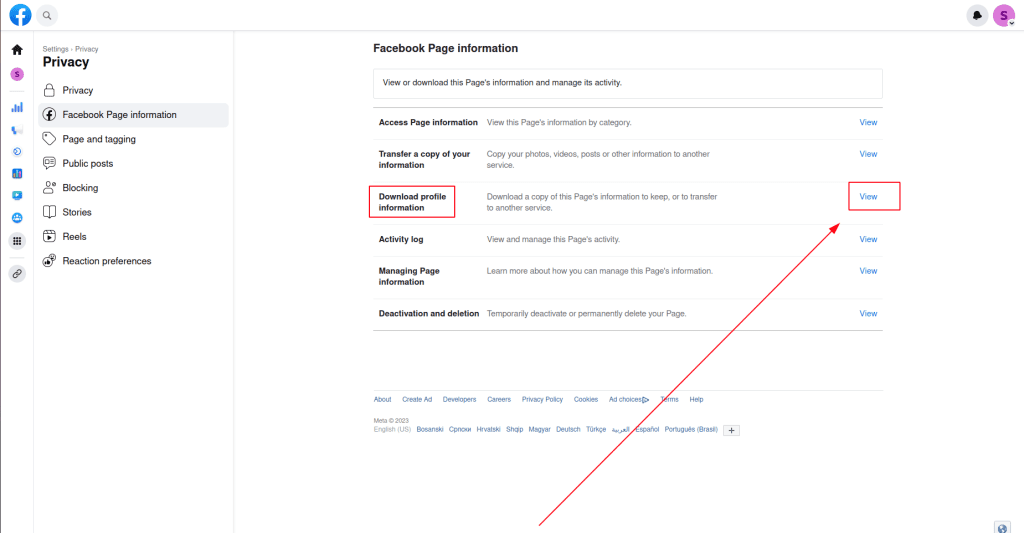 5. In the Select file options section, choose the format in which you would like to download your Facebook Messenger chat history. If you are using it for training a chatbot, choose JSON. Also, if you're using it for this purpose, you probably don't need high media quality, so feel free to choose Low. If you want to download your whole messaging history, choose All time under date range options. If your messages are the only thing you wish to download from your Facebook page, click Deselect All below to clear the selection.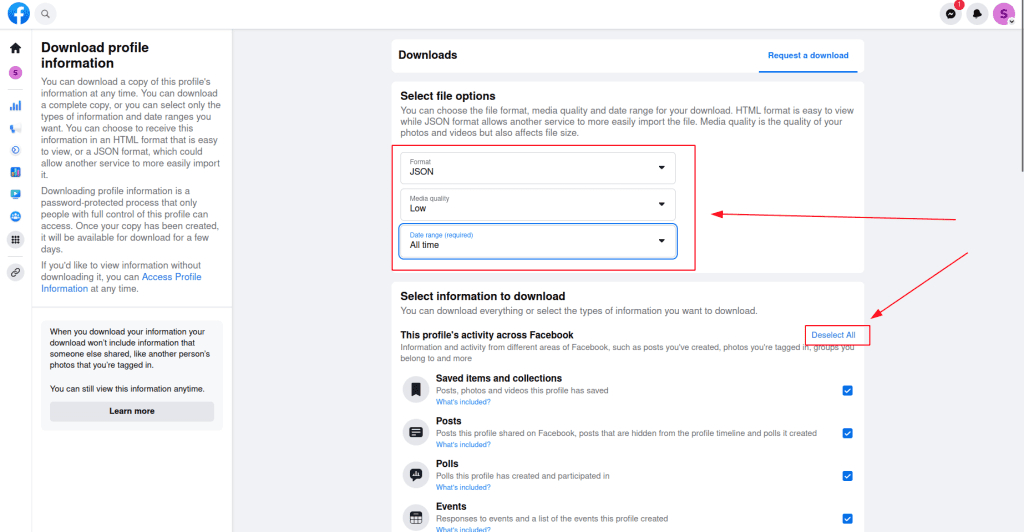 6. Scroll down until you see Messages, with the Messenger icon on the left. That's what you want to download, so mark the checkbox next to it.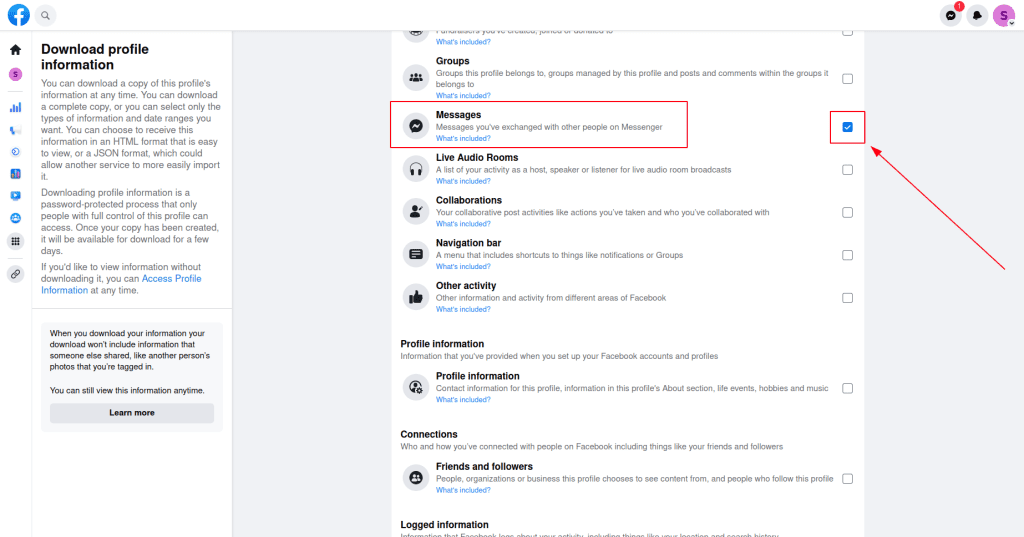 7. At the very end of the page, there's a Request Download button. Scroll all the way down and click on it.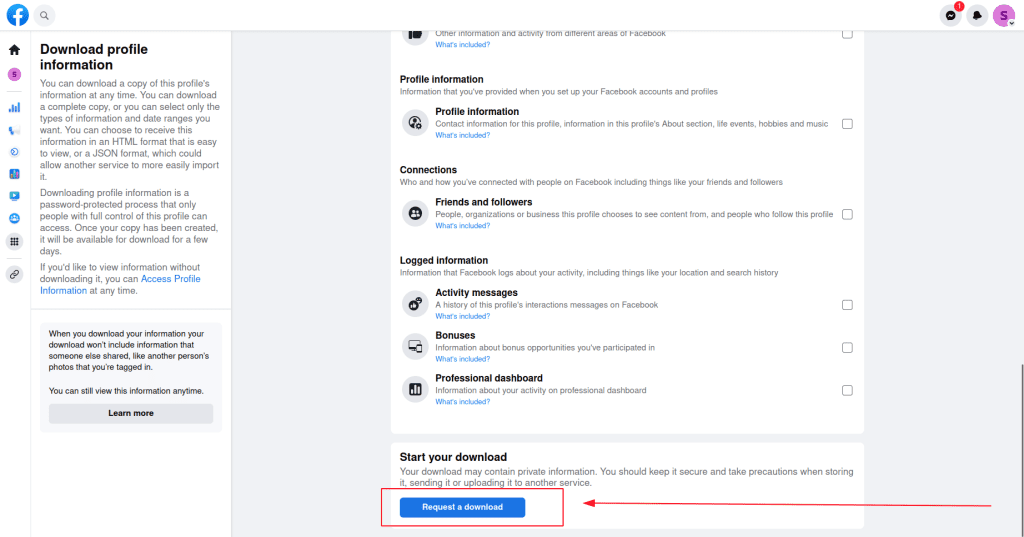 8. Now, your request is sent. You will see an alert under your notifications when the download is ready.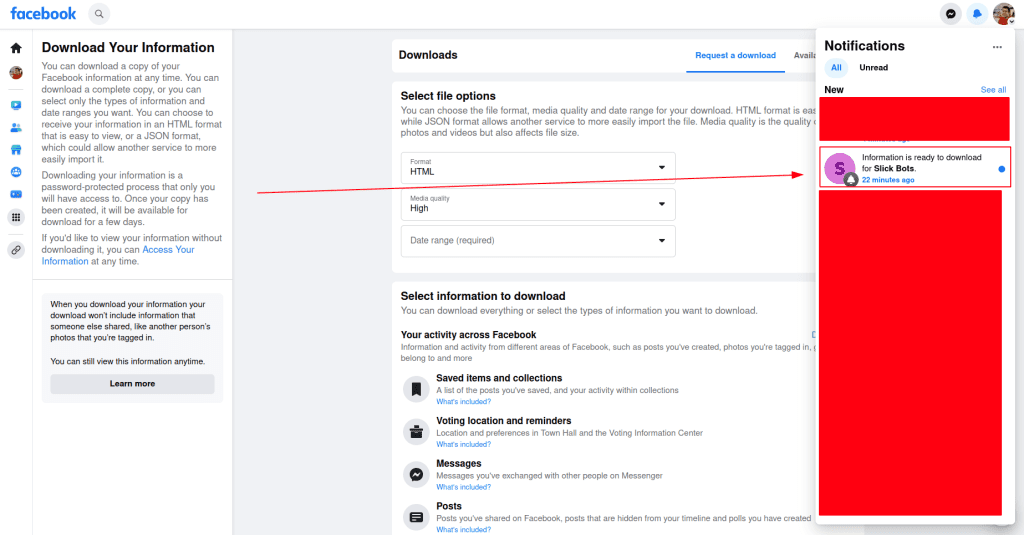 How to access the Facebook Messenger chat history you downloaded?
When you download the messaging history, in your computer you will find a folder called Messages. In that folder, you will find another folder labeled Inbox and in it there will be one separate folder for every chat session you've ever had.
So for every chat participant, there is a particular folder, which makes it all so easy to manage. If you open that folder you will see a subfolder with photos, and with media shared in the chat.  You will also see the JSON file, which contains all the messages with timestamps and the sender's name.
And there you have it! In less than 10 steps, all your Facebook page chat history is safely backed up.
Final remarks
Facebook Messenger is an integral part of doing business for many. It's an easy and effective way to connect with your leads, clients and partners. That means many conversations and valuable data will be exchanged through it. So having a backup of your Messenger chat outside of Facebook is definitely a good idea. Stay up to date with our Quick tutorials to find more useful tricks for Facebook Messenger and your business.
Ready to save time and increase revenue by automating Facebook Messenger conversations?
While communication with your clients is crucial for your business to prosper, it can also be time consuming. If you don't want to hire extra employees, nor waste your own precious time, you should consider  Facebook Messenger automation.
Slickbots provides Facebook Messenger automation services, with transparent marketing strategies that improve sales, communication and customer loyalty. Engage your customers with personalized messaging that will help them to fully appreciate the value of your offer. Book your free consultation now.